A revolutionary concept
Because its density offers unparalleled ability of inertia…
It has a large heat accumulation power while allowing a slow return thereby reducing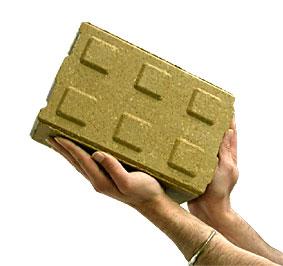 heating requirements. It is also efficient behind a heat source or around a masonry stove.
A "cold" partition wall lined with bricks will lend a significant improvement in the thermal performance inside a building. Following the same principle, inertia provides a feeling of freshness in summer; the walls reap "the cool" during the night and restore themselves during the day.
Because its « lego » shape democratizes its use…
Thanks to its shape specially created by MecoConcept, the bricks can be stacked on top of each other without mortar. This exclusive system makes building as simple as child's play. On the other hand our smooth bricks need a wet mortar.
Elle répond aux besoins du particulier auto-constructeur où du professionnel artisan en recherche d'un produit facile à mettre en œuvre et garantissant une bonne exécution du chantier.
It responds to DIY builders or professional artisans looking for a product that is easy to make and easy to use.