Load bearing walls mounted without mortar
Congo (Dolisie)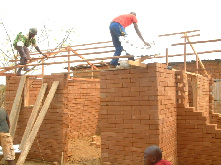 TerrA-B-Congo, a Congolese construction company, has adopted the MecoConcept construction system.
The MecoPress was used to manufacture a model home, with load bearing compressed earth block walls assembled without mortar. The walls in this 40 square meter house were put up in 2 days.
---
Intertia Column
Vendée, France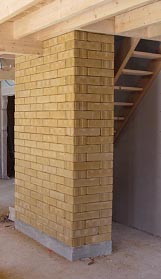 In collaboration with the work training programme "Pedagogia Vendée" and brickmakers, Lutton, a compressed earth brick production has begun in Vendée using the press.
The first construction site finished by J. Delhommeau, a DIY builder, and in collaboration with the architectural firm "Architecture and Territories" is a compressed earth brick intertia column inertia measuring 5m40 tall.
---
Masonry heater
Roquemaure, France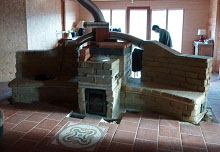 In a passive wood house. This masonry heather with compressed earth block walls on each side capture the warmth from the stove and heats the entire house.
The mass of compressed earth blocks continues to heat the room during 24 hours after the fire is extinguished.
---
Inertia wall for a passive house
Chasteaux, France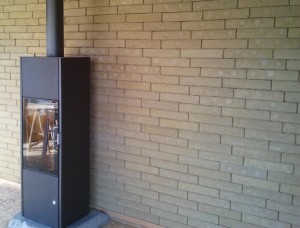 A masonry heater attached to a double wall of inertia in a wooden house allows for the accumulation of heat in winter.
During the day the compressed earth block wall captures the sun's heat.
In the summer, the wall regulates moisture and cools the house.
---
Vauban Citadel
Lille, France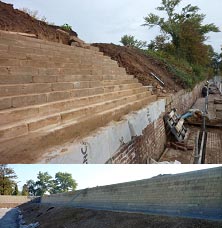 MecoConcept's compressed earth block machine was used to restore the exterior edge walls of the Vauban citadel in Lille, France.
The Lefèvre Company, the No. 1 french company for heritage site renovation, chose the MecoConcept construction system to renovate this UNESCO world heritage site.
For more information, please contact us.